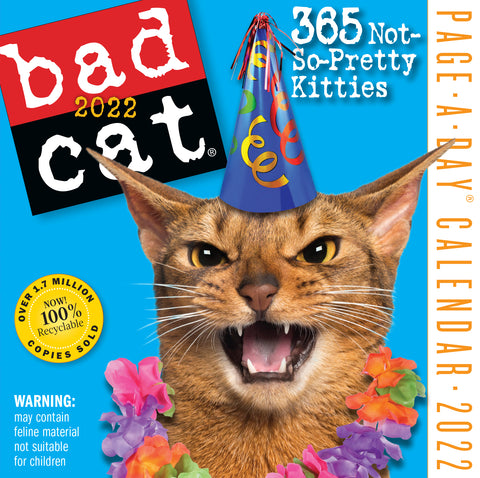 Bad Cat Page-a-Day Calendar 2022
So many cats, so many ways to go off the rails—to hilarious effect.

Bad Cat is the bestselling calendar—based on the New York Times bestselling book—that celebrates the misfits and bad boys of the feline world.  And the list of transgressions just goes on: cats extorting their owners out of cash, cats guzzling margaritas before 5 p.m., cats in inappropriate relationships with squirrels, cats wearing bad hairpieces. Plus rude cats, maniacal cats, controlling cats, Who's Who in Bad Cats, Bad Cat Bucket List, Bad Cat Couplets, and Bad Cat Early Warning Signs: Cat demonstrates desire to return to animal shelter ASAP. Printed on FSC-certified paper and 100% recyclable.