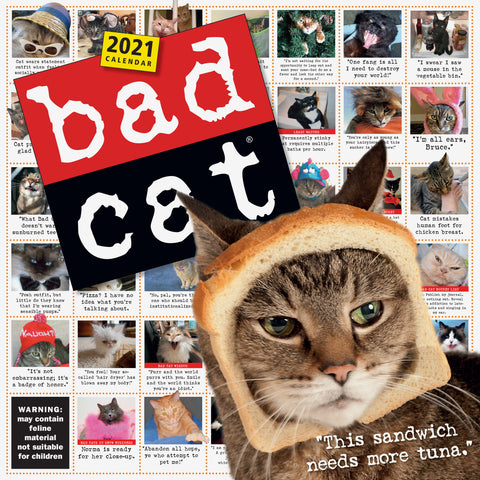 Bad Cat Wall Calendar 2021
Brash and funny, packed with day after day of off-kilter kitties.

This is the calendar that makes cat lovers question their sanity. Why? Here are cats in inappropriate relationships. Cats with delusions of grandeur. Cats celebrating St. Patrick's Day early. Cats not-very-discreetly hanging out on the birdbath. And little kittens who missed the "cute" memo. Adapted from the disturbingly hilarious #1 New York Times bestselling book, the Bad Cat calendar is back with another year of out-of-control feline behavior. Includes Who's Who in Bad Cats, Bad Cat Diet Secrets, Bad Cats in Show Business, and Bad Cat Early Warning Signs: Cat always cuts phone line before attacking dog. Watch out! Printed on FSC-certified paper.