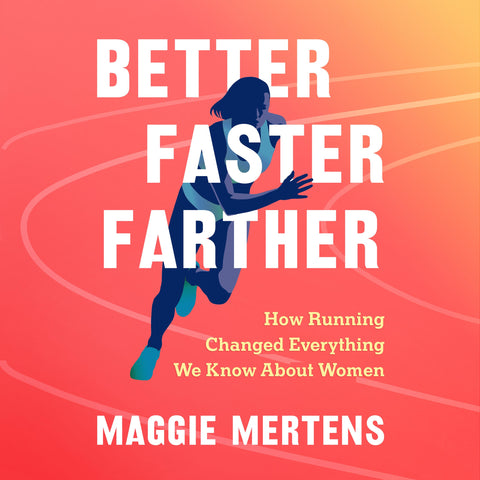 Better Faster Farther
For readers of The National Team, Good and Mad, and Born to Run, as well as feminist histories like Fly Girls, this edge-of-your-seat, virtually unknown story by award-winning sports journalist Maggie Mertens tells how women broke into competitive running over the last century, getting faster and fiercer with every race and changing our understanding of gender and power in one of America's most popular pastimes─and beyond.

The 2024 Olympics in Paris will celebrate the 40th anniversary of the first time women were permitted to compete in an Olympic marathon—88 years after the first modern men's Olympic marathon. In fact, 2024 also marks 88 years since the first woman ran in that very race. She just did it without permission.

Mertens transports us to that first boundary-breaking marathon in Greece, 1896, which Stamata Revithi successfully finished, to the earliest sanctioned women's races of the 20th century to the passing of Title IX and into the present, showing how time and again, despite women proving their abilities on the track, men in the medical establishment, media, and athletic associations fought to keep women (or at least white women) fragile—and sometimes literally tried to push them out of the race (see Bobbi Gibb, Boston Marathon, 1966). Women ran barefoot or in nursing shoes, since there were no women's running shoes. They ran without sports bras, which weren't invented until 1977, or competed disguised as men. They faced down quack science, doctors who put them on bedrest, and newspaper reports that said women simply collapsed if they ran a mere 800 meters, and, still today, face relentless attention to their physical bodies: Is she too strong, too masculine; is she even a woman? And these questions have consequences, as some women are now banned from competition due to similar outdated concepts of gender and biology.  

Better Faster Farther takes us inside the lives, the races, the victories of the women who changed society's perception of what women can do and how biology really influences athletics. And with this empowering narrative, we are reminded that today, in spite of ongoing sexism in the running world, women continue to run, and win—and the race has only just begun.