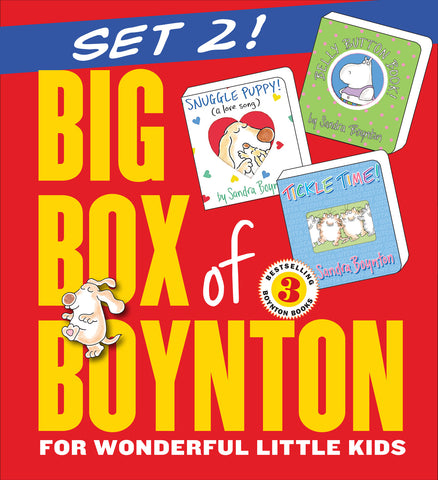 Big Box of Boynton Set 2!
Three bestselling and beloved Boynton board books, in a giftable boxed set!

Together in a bold, happy slipcase: Snuggle Puppy, Belly Button Book! and Tickle Time!

It's the wonderfulest introduction to the world of Boynton—an all-year-round valentine, the joys of Hippo Beach, and the silly pleasure of ticklish cats. Big, bold, humorous, rhyming verses, and those ever-whimsical illustrations that have made Sandra Boynton one of America's best-loved artists. A box of pure read-aloud pleasure.

Just the right gift. Perfect for baby showers. Irresistible for a newborn, or for a one-, two-, even a three-year-old's birthday.