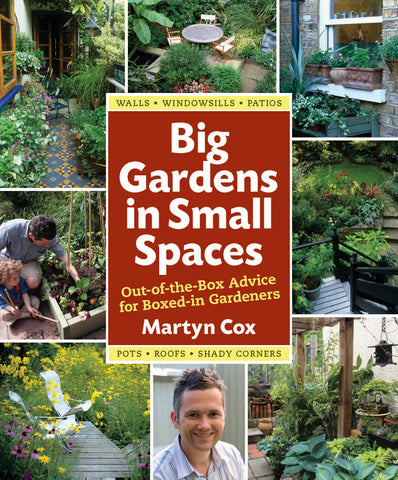 Big Gardens in Small Spaces
At last count, Martyn Cox had more than 250 different plants growing in his 600-square-foot garden in London. He knows from experience that you don't need a lot of space to have an exuberant garden. Big Gardens in Small Spaces provides boundless inspiration and ingeniously practical solutions for taking advantage of every square inch of a small space -- including gardening in shady corners, on rooftops, around doorways, and in the cracks of pavement. 

His ideas are stunningly simple to follow: squeeze as many plants as you can into your garden by any means possible; grow your own fruit, vegetables and herbs; seek out rare, unusual and bizarre plants; don't pay for something you can make or do yourself; learn from nature; welcome change, and most of all enjoy the garden. The happy results? Apparently unuseable spaces become home to myriad plants. Sempervivums and aeoniums nestle in wall crevices, hardy annuals bloom between slabs of pavement, and a grapevine climbs around the back door. Carefully chosen larger plants like bananas, bamboos, and trees find themselves entirely at home. Cox also recommends fruit trees, herbs, and vegetables. 

There are many books on small gardens, but they tend to focus on design at the expense of the plants. Big Gardens in Small Spaces proves this doesn't have to be the case: Follow the advice and a small garden full of healthy, happy plants will be yours.