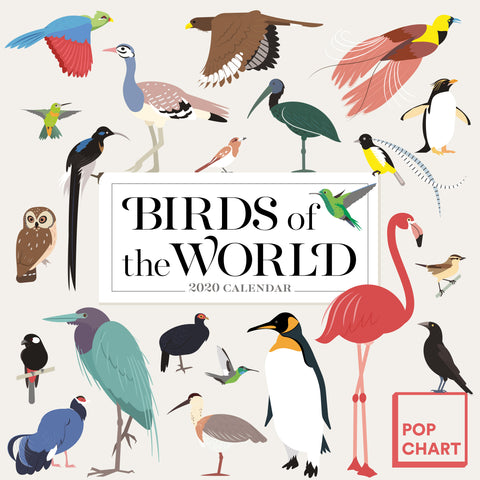 Birds of the World by Pop Chart Lab Wall Calendar 2020
Encyclopedic knowledge meets richly detailed infographics in a must-have calendar for amateur and eagle-eyed birdwatchers alike.

In twelve crisp, colorful illustrated taxonomies, Birds of the World spotlights a new species each month, from Neotropical Flamingos to Australasian Peltops, while capturing each individual bird's distinct spirit. See the astounding color and plumage varieties among African Musophagiformes, including the White-bellied Go-away-bird and the Great Blue Turaco. Or the range in size of the Southeast Asian Birds of Paradise, from the tiny King Bird-of-Paradise to the 110cm Black Sicklebill. It's a unique approach to avian obsession from Pop Chart Lab, the cutting-edge graphic design team whose gorgeous prints meet at the intersection of infographic and work of art.