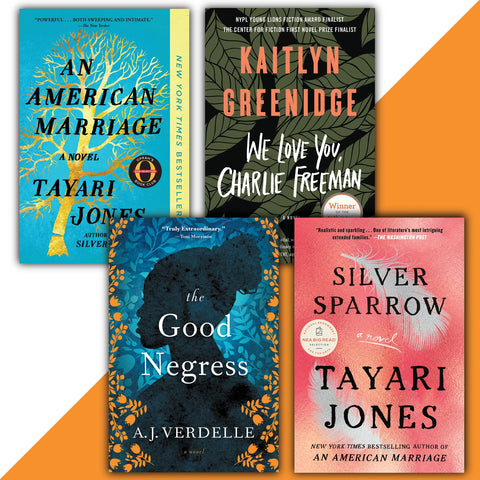 Black Voices Paperback Collection

 
Newlyweds Celestial and Roy are the embodiment of both the American Dream and the New South. He is a young executive, and she is an artist on the brink of an exciting career. But as they settle into the routine of their life together, they are ripped apart by circumstances neither could have imagined. Roy is arrested and sentenced to twelve years for a crime Celestial knows he didn't commit. Though fiercely independent, Celestial finds herself bereft and unmoored, taking comfort in Andre, her childhood friend, and best man at their wedding. As Roy's time in prison passes, she is unable to hold on to the love that has been her center. After five years, Roy's conviction is suddenly overturned, and he returns to Atlanta ready to resume their life together.
 
This stirring love story is a profoundly insightful look into the hearts and minds of three people who are at once bound and separated by forces beyond their control. An American Marriage is a masterpiece of storytelling, an intimate look deep into the souls of people who must reckon with the past while moving forward—with hope and pain—into the future.
 


The Freeman family--Charles, Laurel, and their daughters, teenage Charlotte and nine-year-old Callie--have been invited to the Toneybee Institute to participate in a research experiment. They will live in an apartment on campus with Charlie, a young chimp abandoned by his mother. The Freemans were selected because they know sign language; they are supposed to teach it to Charlie and welcome him as a member of their family. But when Charlotte discovers the truth about the institute's history of questionable studies, the secrets of the past invade the present in devious ways.  

The power of this shattering novel resides in Greenidge's undeniable storytelling talents. What appears to be a story of mothers and daughters, of sisterhood put to the test, of adolescent love and grown-up misconduct, and of history's long reach, becomes a provocative and compelling exploration of America's failure to find a language to talk about race.

"A magnificently textured, vital, visceral feat of storytelling . . . [by] a sharp, poignant, extraordinary new voice of American literature." —Téa Obreht, author of The Tiger's Wife
 

 
Twenty years after its initial publication, The Good Negress continues to be an important part of the literary canon, as relevant and necessary as ever. Set in 1960s Detroit, the novel centers around Denise Palms, who leaves her grandmother's home in rural Virginia to reunite with her mother, stepfather, and older brothers. As a black teenage girl, Denise is given scarce opportunity beyond cooking, cleaning, and raising her mother's baby. But an idealistic, demanding teacher opens Denise's eyes to a future she has never considered, and soon she begins to question the limits of the life prescribed to her.
 
With lyrical, evocative prose, A. J. Verdelle captures Denise's journey from adolescence to womanhood as she navigates the tension between loyalty and independence, and between circumstance and desire. The Good Negress is an unforgettable debut—simultaneously the portrait of a family and a glimpse into an era of twentieth-century America.
 
Winner of the Harold D. Vursell Memorial Award from the American Academy of Arts and Letters
Finalist for the PEN/Faulkner Award for Fiction
 


With the opening line of Silver Sparrow, "My father, James Witherspoon, is a bigamist," author Tayari Jones unveils a breathtaking story about a man's deception, a family's complicity, and the two teenage girls caught in the middle.

Set in a middle-class neighborhood in Atlanta in the 1980s, the novel revolves around James Witherspoon's two families—the public one and the secret one. When the daughters from each family meet and form a friendship, only one of them knows they are sisters. It is a relationship destined to explode. This is the third stunning novel from an author deemed "one of the most important writers of her generation" (the Atlanta Journal Constitution).