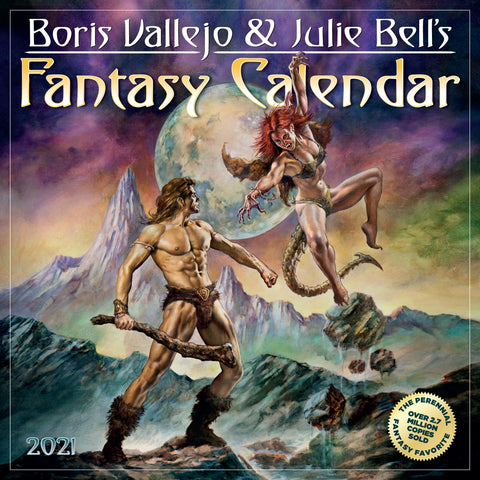 Boris Vallejo and Julie Bell's Fantasy Wall Calendar 2021
13 all-new paintings from the fantasy masters, featuring reptilian beasts, otherworldly landscapes, and sensual warrior queens.
 
From the husband-and-wife team of Boris Vallejo (America's premier fantasy artist) and Julie Bell (international award-winning fantasy and wildlife artist), this perennially bestselling calendar is a portal to a thrilling world alive with magic and mythical creatures, beautifully painted with meticulous attention to detail: flowing hair, exquisitely defined muscles, expressions filled with passion and valor. A brave knight spreads her resplendent wings. A striking siren befriends a scaly dragon. A fierce demon stalks her prey in the light of the moon. Escape into 13 dynamic all-new paintings, including a dazzling bonus centerfold. Printed on FSC-certified paper.