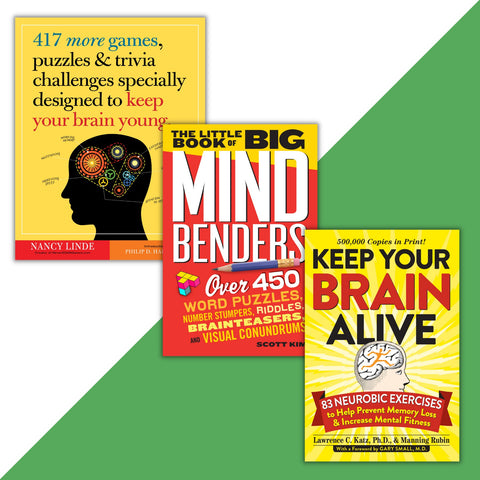 Brain Games Set
Cross-train your brain with three bestselling titles that mix puzzles, games, trivia, and more ways to help strengthen your brain power and keep aging at bay.

Little Book of Big Mind Benders
A cornucopia of spatial puzzles, number challenges, wordplay, visual conundrums, and more. Test your knack for patterns with Dot Matrix. Put the pieces together in Assemblies. Deduce the secret word in Letter Swap, or untangle the mangled phrases of Lost in Translation. Plus discover cool twists on Sudoku, far-out ambigrams, Wordezoids, mazes, and number puzzles. Answers are included in the back of the book.

417 More Games, Puzzles & Trivia Challenges Specially Designed to Keep Your Brain Young
The kind of brain exercise you'll want to do—it's fun and engaging, and takes just a few minutes a day! These lively games and puzzles are specifically designed to strengthen key cognitive functions like long-term memory and processing speed.

Keep Your Brain Alive
How to combat the forgetfulness that comes with aging? Try neurobics! This unique brain exercise program based on neuroscience includes simple exercises that stimulate brain nutrients to help new brain cells grow. Offbeat, fun, and easy, these 83 exercises will help you break routines and use your senses in unexpected ways, which will keep your mind fit to meet any challenge—whether remembering a name, learning a new app, or staying creative in your work.