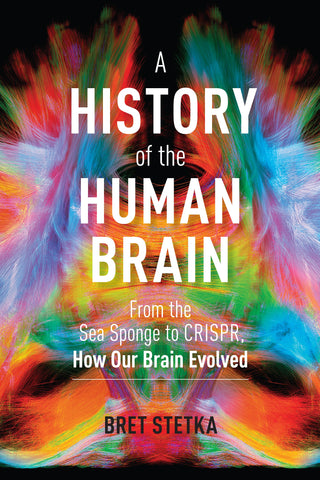 A History of the Human Brain
"Crack open this book and take a read. You will be transported, illuminated, and delighted." —Psychology Today

Just 125,000 years ago, humanity was on a path to extinction, until a dramatic shift occurred. We used our mental abilities to navigate new terrain and changing climates. We hunted, foraged, tracked tides, shucked oysters—anything we could do to survive. Before long, our species had pulled itself back from the brink and was on more stable ground. What saved us? The human brain—and its evolutionary journey is unlike any other.

In A History of the Human Brain, Bret Stetka takes us on this far-reaching journey, explaining exactly how our most mysterious organ developed. From the brain's improbable, watery beginnings to the marvel that sits in the head of Homo sapiens today, Stetka covers an astonishing progression, even tackling future brainy frontiers such as epigenetics and CRISPR. Clearly and expertly told, this intriguing account is the story of who we are. By examining the history of the brain, we can begin to piece together what it truly means to be human.