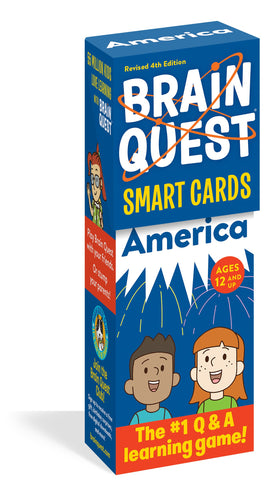 Brain Quest America Smart Cards Revised 4th Edition
This set of Q&A smart cards quizzes readers on all things U.S.A.—history, law, government, folklore, geography, pop culture, and more—great for test prep, review, and fun!

It's fun to be smart with Brain Quest America Smart Cards, a fast-paced Q&A game that helps kids ages 9 to 12 learn all about American culture and history––from the Bill of Rights to Rosa Parks to the only state named after a president--Washington! Packed with hundreds of curriculum-based questions covering laws, literature, inventions, arts, and the lay of the land, this set of trivia card decks asks: How well do you know the U.S.A.? Many answers now include background information and explanations that help put learning in context. All Brain Quest products are vetted by a panel of award-winning experts.