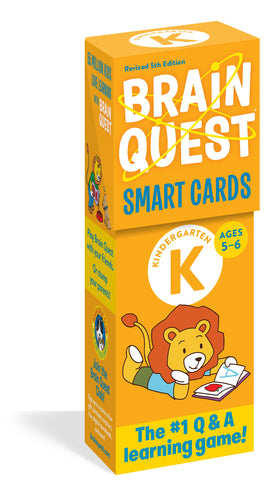 Brain Quest Kindergarten Smart Cards Revised 5th Edition
It's fun to be smart! Packed with questions that promote language development, cognitive growth, and social skills, these illustration-based card decks are the key to making kindergarten fun.
Loved by kids, teacher approved, and trusted by parents, 
Brain Quest Kindergarten
question-and-answer cards help children explore and learn about phonics, word study, counting, opposites, early adding and subtracting, and more! In a set of two decks, 
Brain Quest Kindergarten
features hundreds of questions to help kids learn exactly what they need to know, when they need to know it.
Featuring:
Two full-color Q&A decks in a reusable flip-top storage box
A parent guide to help maximize the learning and fun
300 questions that set the foundation for learning
What's New?
Technology questions: Introduce children to the basics of computers, technology, and logic
Expanded social and emotional learning: Explores feelings and interactions with peers
Updated content: Fresh and relevant to today's families
Brain Quest decks are:
Aligned with early learning, child development milestones
Vetted by award-winning educators
Great to play with and learn from
Also available: Brain Quest Workbooks (Pre-Kindergarten through 6th Grade), Summer Workbooks (Pre-Kindergarten-Kindergarten through 5th-6th Grades), and My First Brain Quest First Words board books and early learning concept board books.