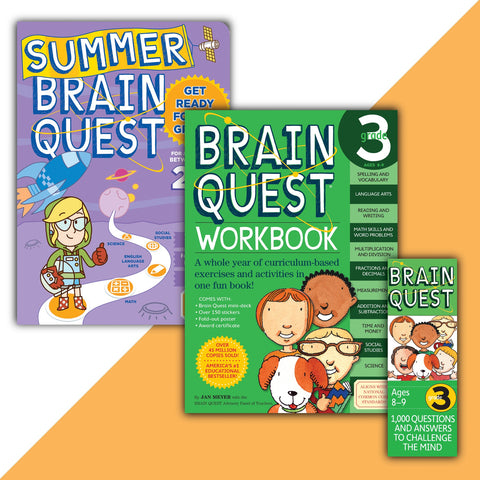 Brain Quest Set: Going into 3rd Grade
Get ready for 3rd Grade with Brain Quest workbooks and a Q&A deck! Website exclusive 3-book set.

These 2 workbooks and Brain Quest Q&A card deck are just what a child needs to get ready for a successful year in 3rd Grade! Start with a summer workbook designed for the summer between 2nd and 3rd Grade, and move on to a 3rd Grade-specific workbook and deck that help students build confidence and practice what they need to know, when they need to know it! Workbooks are jam-packed with curriculum-based exercises (and reward certificates and stickers!), and the interactive Q&A card deck can be played with a friend or a parent.
Aligned with Common Core State Standards and expertly vetted by award-winning teachers, this set is designed to appeal to kids' natural curiosity, with interactive layouts and easy-to-follow explanations that take the intimidation out of learning. Plus, it's written to help parents follow along and explain key concepts.
It's fun to be smart with Brain Quest!