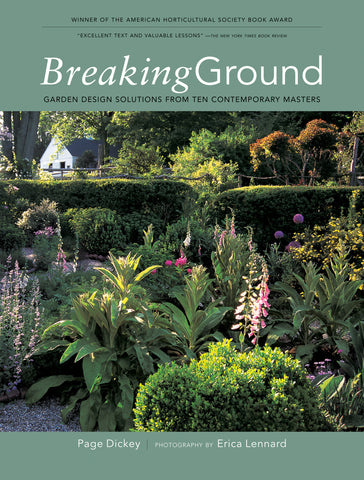 Breaking Ground
Not since Martha Schinz's masterful
Visions of Paradise,
published in 1984, has there been such an important survey of garden design and style as
Breaking Ground.
Whereas
Visions of Paradise
featured classic European garden design,
Breaking Ground
takes an in-depth look at the work of ten contemporary garden designers living and working in America and Europe today.
The two hundred glorious full-color photographs by Erica Lennard and the lucid text by garden writer and designer Page Dickey capture the spirit and genius of the ten designers. A chapter is devoted to each designer--his or her sources of inspiration, style, philosophy, and method of creation. From the bold Southern California designs of Nancy Power to the urban geometries of Madison Cox to the updated French formal style of Louis Benech to the romantic country gardens of Nancy McCabe, Breaking Ground profiles the artists who are redefining garden design categories.
Inspirational, informative, contemporary, and beautiful, Breaking Ground is a spectacularly crafted object in itself--sure to be one of the major garden gift books of the season.