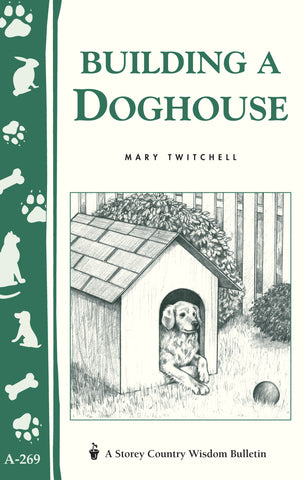 Building a Doghouse
Build a Doghouse That's Just Right for Your Dog!
While your dog may be a full-fledged member of the family, there are times when you must put him or her outdoors. Some dogs, for example, become over enthusiastically friendly when visitors appear, even to the point of knocking down your unsuspecting guests. Other dogs enjoy having some time to themselves in the backyard. Whatever the reason that shepherds the dog out the door, a nearby doghouse within a fenced-in area provides a protected, private space for your dog and peace of mind for you. A proper doghouse is a canine retreat, a place where your dog can hide from the hot sun, the cold rain, the harsh wind, and the worries of the world.
Mary Twitchell takes you through all the options for building or buying a comfortable and cozy shelter for your canine companion. Whether you want to modify a barrel, buy a molded plastic shelter, or build a wooden doghouse, you'll find all the information you need right here, from choosing the right site to proper building techniques to encouraging your dog to use the new doghouse.