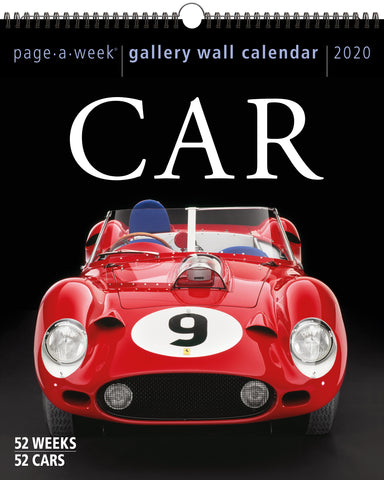 Car Page-A-Week Gallery Wall Calendar 2020
The Rolls Royce of car calendars.

These 52 collectible, vintage, and utterly covetable vehicles are begging to be taken for a spin—or at the very least ogled, and the Page-A-Week® gallery wall calendar's gorgeous poster-style format makes every detail sparkle as intended. This high adrenaline celebration of unparalleled automotive design, from antiques and classics to modern marvels and futuristic concepts includes a forest green 1960 Bentley Continental S that is all curves. A muscular Lotus Elise with swooping fenders, raring to go. And, the ultimate head-turner, a shimmering, cherry red Pininfarina Ferrari P4/5. Plus Mustangs, Lamborghinis, and more, every one a showcase for exhilarating speed, extraordinary craftsmanship, and pure luxury. Can you feel the speed? It's a take-your-breath away collection for car enthusiasts.
 
Page-a-Week® Gallery Wall Calendars feature art book design, heavy-coated paper stock, and rich, full-color photographs. 52 breathtaking, poster-style images are like works of art for your wall, complemented by a practical weekly grid.