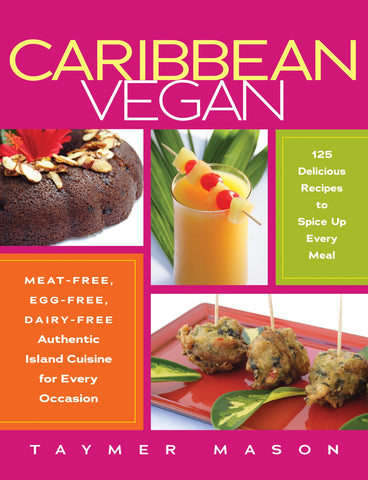 Caribbean Vegan
Here is your passport to a world of distinctive, unforgettable food—125 delicious, authentic vegan recipes that showcase flavors and ingredients from across the Caribbean islands
If "Caribbean cuisine" makes you think of pineapples and coconuts, you're missing out. The Caribbean islands are home to a rich cooking tradition that combines African, French, Spanish, British, Asian, and Indian influences, adds an unmistakable local flair . . . and tastes like paradise. A real secret is in the herbs and spices—with the right uncooked sauce, cooked sauce, or "wet seasoning" blend, you can transform everyday ingredients into Caribbean delights.
Caribbean Vegan will spice up your vegan diet like no other cookbook. Popular blogger Taymer Mason serves up 125 completely vegan recipes—for breakfast dishes, appetizers, entrées, sides, soups, desserts, and drinks that are anything but bland. Sample the local flavors of Barbados, Saint Lucia, Trinidad and Tobago, Jamaica, Grenada, and the French West Indies with:
Saint Lucian Bakes
Eggplant and Seaweed Accras
Bajan Soup with Dumplings
Rummy Rum and Raisin Ice Cream . . . and much more!
Enticing color photos and Island Tips explain the key ingredients, equipment, and techniques of Caribbean cuisine—so whatever your previous familiarity with Caribbean food, you'll be cooking like an islander in no time.