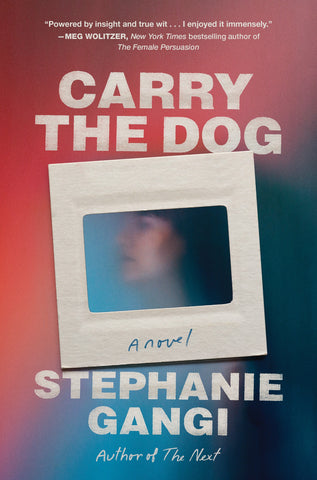 Carry the Dog
"Powered by insight and true wit." —Meg Wolitzer, New York Times bestselling author of The Female Persuasion

"I can't remember the last time I was as completely bewitched by a fictional character as I was by Bea Seger . . . What a treat to view life through the eyes of this funny, smart, gutsy woman." —Richard Russo, author of Empire Falls and Chances Are...

Bea Seger has spent a lifetime running from her childhood. The daughter of a famous photographer, she and her brothers were the subjects of an explosive series of images in the 1960s known as the Marx Nudes. Disturbing and provocative, the photographs shadowed the family long past the public outcry and media attention. Now, decades later, both the Museum of Modern Art and Hollywood have come calling, eager to cash in on Bea's mother's notoriety. Twice divorced from but still entangled with aging rock star Gary Going, Bea lives in Manhattan with her borrowed dog, Dory, and sort-of sister, Echo. After years of avoiding her past, Bea must make a choice: let the world in—and be compensated for the trauma of her childhood—or leave it all locked away in a storage unit forever.

Carry the Dog sweeps readers into Bea's world as the little girl in the photographs and the woman in the mirror meet at the blurry intersection of memory and truth, vulnerability and resilience.