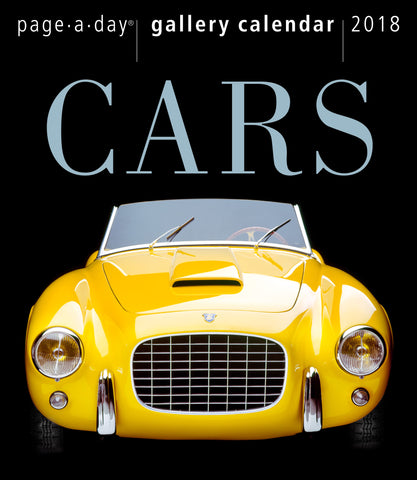 Cars Page-A-Day Gallery Calendar 2018
A take-your-breath-away collection for car enthusiasts. A 1952 Siata Spyder 208-S. A sleek orange 2014 Chevrolet El Camino. And a distinctive Maserati A6G/2000 Frua Spyder, circa 1957. It's a yearlong, high-adrenaline celebration of unparalleled automobile design, from antiques and classics to modern marvels and futuristic concepts—plus racers, customs, muscle cars, and more. With hundreds of elegant full-color photographs, Cars Page-A-Day Gallery Calendar is the only calendar that matches the passion of the car lover.

The Rolex of calendars, the Page-A-Day Gallery Calendar elevates what a calendar can be, incorporating engaging content with the weight, style, and visual richness usually reserved for art books. A sophisticated gift for collectors, connoisseurs, and aficionados—and an aesthetic upgrade for any desktop.