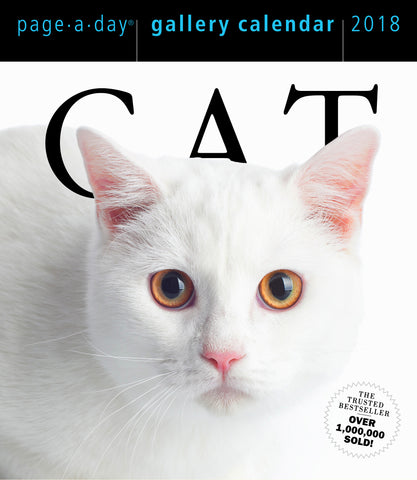 Cat Page-A-Day Gallery Calendar 2018
A gift of pure pleasure for the cat lover, Cat Gallery Calendar is a year of enchanting photographs in color and black-and-white, printed to the exacting standards of a fine art book. Each image showcases the beauty, grace, and mischievous spirit of a unique cat: A beautiful tabby exploring a rocky seashore. A wide-eyed black cat peeking out from behind the couch. An elegant Siamese sunbathing by a patch of flowers. It's a loving, day-by-day tribute to our most beguiling and delightful animal companion.

The Rolex of calendars, the Page-A-Day Gallery Calendar elevates what a calendar can be, incorporating engaging content with the weight, style, and visual richness usually reserved for art books. A sophisticated gift for collectors, connoisseurs, and aficionados—and an aesthetic upgrade for any desktop.