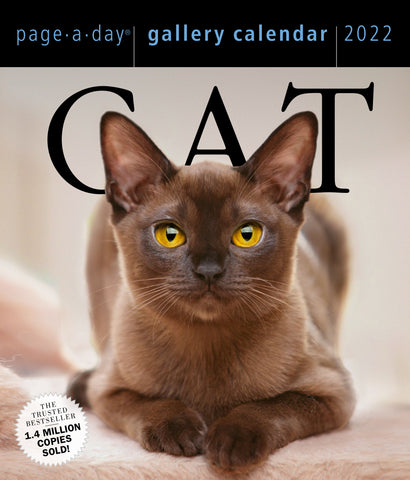 Cat Page-A-Day Gallery Calendar 2022
A tribute to the unparalleled beauty and elegance of cats.

Here is a year of cat portraits, in both black-and-white and color, which capture the beguiling combination of independence, attitude, and grace that cat people just can't resist. A calico leaping through ancient Greek ruins. A white cat with a black "mask" gazing off into the distance. A sweet gray  kitten peeking through its kitty door. And a fluffy Persian with an expression that says "Spoil me." The hundreds of images are enhanced by charming captions and quotes. Printed on FSC-certified paper.

Page-a-Day® Gallery Calendars include 160 sheets of glossy, high quality paper printed with gorgeous full-color photographs. Each calendar is packaged in a clear plastic box that opens into a desktop easel for elegant, inspiring display.