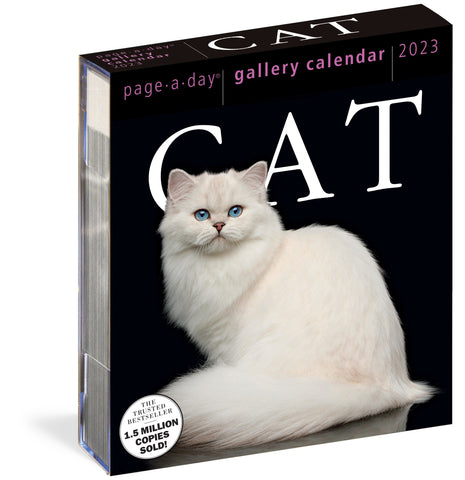 Cat Page-A-Day Gallery Calendar 2023
The calendar that cat lovers can't resist: an elegant portrait on each page that captures that uniquely feline attitude, elegance, and independent spirit.

A beautifully patterned Bengal taking a catnap. A close-up of a white Birman with deep blue eyes. An energetic orange long-haired cat pouncing on hidden prey. And a Scottish Fold with its distinctive, folded-over ears. The calendar's exquisite photographs are gorgeously reproduced and the daily images are enhanced with captions and quotes, making this a delightful gallery of cats for your desktop. Printed on responsibly sourced paper.

Page-a-Day® Gallery Calendars include 160 sheets of glossy, high quality paper printed with gorgeous full-color photographs. Each calendar is packaged in a clear plastic box that opens into a desktop easel for elegant, inspiring display.