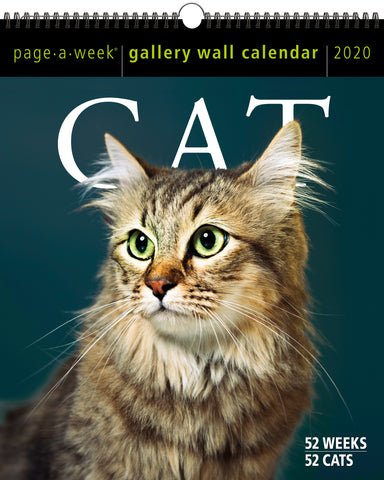 Cat Page-A-Week Gallery Wall Calendar 2020
A yearlong homage to feline charm, in 52 ravishing portraits.

The mystique, grace, and attitude of the cat is captured in 52 weeks of exquisitely composed close-up portraits. A calico's warm, direct gaze inspires instant adoration, a ginger tabby's sleepy tranquility invites a loving pat, and a black cat's mischievous pose hints at its frisky behavior. Each image is saturated in mesmerizing detail—brilliant, gold-flecked eyes; a languidly curling tail; a shiny coat—and is an elegant and affectionate tribute to the singularly alluring feline.

Page-a-Week® Gallery Wall Calendars feature art book design, heavy-coated paper stock, and rich, full-color photographs. 52 breathtaking, poster-style images are like works of art for your wall, complemented by a practical weekly grid.