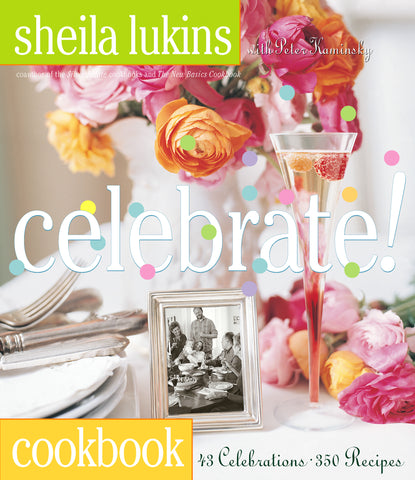 Celebrate!
Time to celebrate! With one purpose only-to bring family and friends together-Sheila Lukins presents
Celebrate!
, a full-color extravaganza of a book with 46 festive menus, 350 foolproof, with-a-twist recipes in the Silver Palate style, 200 color photographs, and throughout, the passion that's made her one of America's most creative cooks and best-loved food writers.
Here are menus to re-energize traditional holidays-for Thanksgiving serve Maple Ginger Turkey with a piquant Cornbread Chorizo Stuffing. Menus that will turn impromptu gatherings into yearly events--a hearty selection of bowl foods for Super Bowl Sunday, a red-white-and-blue menu for a Memorial Day barbecue, an easy weekday Cozy Dinner for Two. And menus that will inspire whole new reasons to throw a party--The Big Raise (featuring a Blushing Lobster Cocktail), When Spring Has Sprung, The First Summer Tomatoes, a Celebrate Morocco Dinner with Moorish Carrot Soup, Lamb Tagine, Orange Flower Sorbet. Celebrate! is a blueprint for joy, making any time the right time to celebrate and showing just how to pull it off.