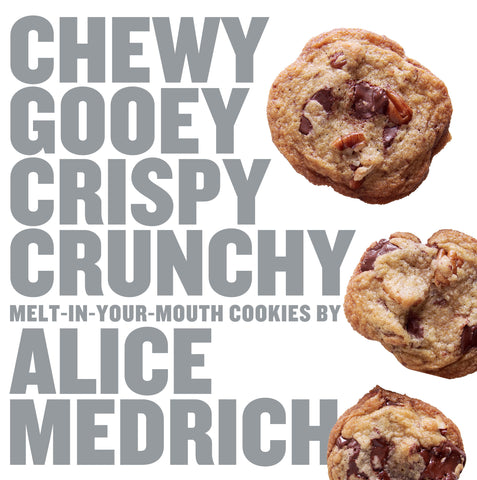 Chewy Gooey Crispy Crunchy Melt-in-Your-Mouth Cookies by Alice Medrich
 2010 IACP Baking Book of the Year

With recipes organized by texture! Flaky, gooey, crunchy, crispy, chewy, chunky, melt-in-your-mouth . . .

Cookies are easy, enticing, and fun. Yet as the award-winning baker Alice Medrich notes, too often, home cooks cling to the recipe on the bag of chocolate chips, when so much more is possible. "What if cookies reflected our modern culinary sensibility—our spirit of adventure and passion for flavors and even our dietary concerns?" Medrich writes in her introduction to this landmark cookie cookbook, organized by texture, from crunchy to airy to chunky.  An inveterate tester and master manipulator of ingredients, she draws on the world's pantry of ingredients for such delicious riffs on the classics as airy meringues studded with cashews and chocolate chunks, palmiers (elephant's ears) made with cardamom and caramel, and rugelach with halvah. Butter and sugar content is slashed and the flavor turned up on everything from ginger snaps to chocolate clouds. From new spins on classic recipes including chocolate-chip cookies and brownies, to delectable 2-point treats for Weight Watchers, to cookies to make with kids, this master conjurer of sweets will bring bliss to every dessert table.