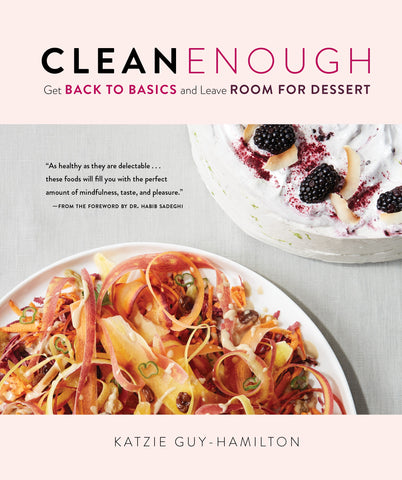 Clean Enough
Over 100 Whole-Food, Best-In-Class Recipes to Set You On the Path to Food Freedom

Pastry chef Katzie Guy-Hamilton was living her dream—traveling worldwide to represent Max Brenner chocolate—but her whirlwind lifestyle began taking a toll on her health. She started down the path to wellness by eating clean, but soon realized something essential was missing . . . dessert!

Today, Katzie cooks and eats "clean enough"—a more forgiving (and fun) approach that serves up equal helpings of healthful, effortless entrées and satisfying treats, all made with natural, whole ingredients and accessible techniques. Ranging from Blistered Miso Sweet Potatoes and Green Fava Baked Eggs, to Generous Chocolate Chunk Cookies and Pan di Spagna, the 100+ recipes in Clean Enough are designed to strike a delicious balance between savory and sweet; to be enjoyed on a busy weeknight, leisurely Sunday, or in the company of friends.

Katzie's refreshing attitude toward health is a welcome reminder that there's space in every day for broccoli and bread, mango and meringue. After all, eating clean is only half of living well—and you deserve enough to thrive.