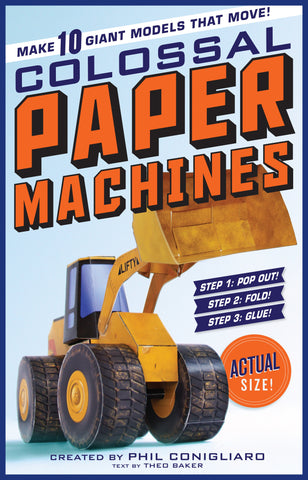 Colossal Paper Machines
What a big idea! And what big fun: A whopping oversize book of interactive paper models to appeal to every kid who loves big machines—which pretty much covers all of them.

These are the coolest big machines that kids love—each re-created in an oversize paper model that, once built, really moves. The book has everything the reader needs to pop out, fold, and create a full-color model of ten big machines: a dump truck, space shuttle, excavator, ladder truck, front loader, concrete mixer, steam locomotive, steamboat, dirigible, Chinook helicopter. Created by Phil Conigliaro, a gifted paper engineer and artist, the models are printed on sturdy card stock; perforated to pop out and fold; require only gluing (no tape or pins); and come with complete, easy-to-follow step-by-step instructions. And, worth repeating, each one moves: Wheels roll and the mixer turns, helicopter blades spin, and the excavator's boom and bucket raises and lowers.

Additionally there's the story of each machine—how it works, who invented it, what it's used for. Kids will learn the history of the steam shovel—the smoking, hissing monster that dug the Panama Canal, the largest engineering feat of the 20th century; how astronauts in a space shuttle could withstand the 3,000 degrees of heat created when it returned to Earth; how the world's largest dump truck can haul a million pounds. It's big stuff!