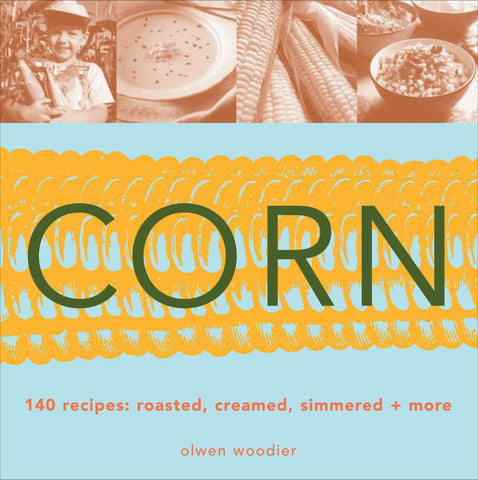 Corn
Nothing is more sublime than the taste of the first fresh corn of the season, steaming hot, slathered with butter, and lightly salted. Award-winning cookbook author Olwen Woodier explains how to best enjoy fresh corn, as well as how to freeze or preserve that farm-fresh taste so that corn lovers can add the nutritious goodness of corn and cornmeal to the menu all year long. Imagine steaming hot cornmeal porridge on a winter's morning, a savory bowl of corn chowder after that first day planting the garden, or a Cinco de Mayo fiesta complete with homemade tortillas.
The texture, wholesome goodness, and flavor of corn make it a remarkably versatile grain, complementing everything from frittatas to Posole, souffles to Shepherd's Pie. In Corn, author Olwen Woodier celebrates this downhome, delicious, all-purpose comfort food through 140 easy-to-prepare recipes. There are Corn Starters: Tortilla Pizza, Blue Blazes Hush Puppies; Corn Soups: Tortilla Soup, Lobster and Corn Chowder; Corn Salads: Black Bean, Corn and Tomato Salad, Corn Pasta Salad with Roasted Garlic Dressing; Corn in the Main: Salmon with Corn Pancakes, Corn-Tortilla Crusted Fish, Corn and Cheese Tamales; and Corn Breads: Bacon-Scallion Muffins, Skillet Corn Bread.
Woodier also includes a complete history of corn, a cook's primer on corn varieties, corn nutritional information, and special grower and chef profiles.