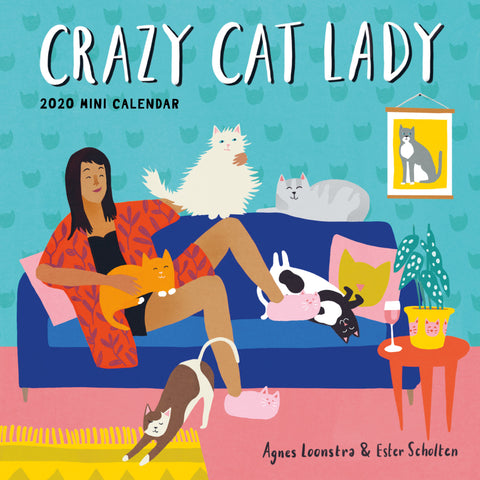 Crazy Cat Lady Mini Wall Calendar 2020
"Cats are like glasses of wine. You can't have just one."

Today's Crazy Cat Lady is a hip-at-any-age woman who declares her cat love with pride, humor, and—like her cats—an irresistible dose of sass. Crazy Cat Lady Mini Calendar is a yearlong celebration of the quirky, relatable habits of devoted feline fans, with mottos for the perpetually fur-covered: Cat hair, don't care. Illustrations with charming captions, including a cat pile that's "#instanthappiness." Uplifting mottos: Stay pawsitive. This sweet, small calendar—at 7" x 7", it's perfect for a fridge or a cubicle—marries quirky artwork with clever text in a perfect gift for the modern feline lover. Based on the Crazy Cat Lady book by Ester Scholten and Agnes Loonstra.