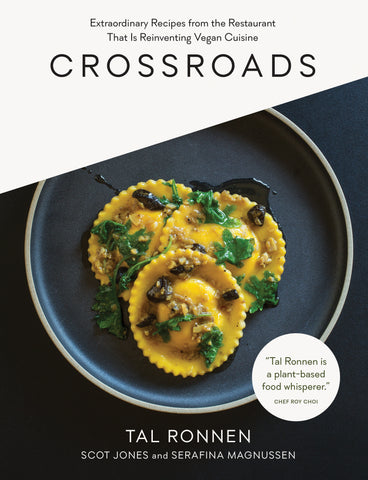 Crossroads
"A new kind of flavor-first vegan cooking. . . . Stunning."
—Food & Wine

"The Best Cookbook Gifts for Vegans"
—Vice

"Best Food Books of the Year"
—USA Today

Reinventing plant-based eating is what Tal Ronnen is all about. At his Los Angeles restaurant, Crossroads, the menu is vegan, but there are no soybeans or bland seitan to be found. He and his executive chef, Scot Jones, turn seasonal vegetables, beans, nuts, and grains into sophisticated Mediterranean fare—think warm bowls of tomato-sauced pappardelle, plates of spicy carrot salad, and crunchy flatbreads piled high with roasted vegetables. In Crossroads, an IACP Cookbook Award finalist, Ronnen teaches readers to make his recipes and proves that the flavors we crave are easily replicated in dishes made without animal products. With accessible, unfussy recipes, Crossroads takes plant-based eating firmly out of the realm of hippie health food and into a cuisine that fits perfectly with today's modern palate. The recipes are photographed in sumptuous detail, and with more than 100 of them for weeknight dinners, snacks and appetizers, special occasion meals, desserts, and more, this book is an indispensable resource for healthy, mindful eaters everywhere.