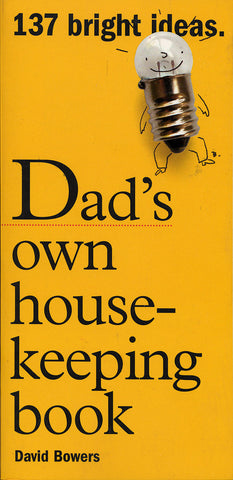 Dad's Own Housekeeping Book
Just because you're born with a "Y" chromosome doesn't excuse you from cleaning the bathroom, especially in this day and age when time's at a premium and partners have to be, well, partners. To help men step up to the plate (and wash it) is DAD'S OWN HOUSEKEEPING BOOK, the book of everything your mother never taught you about taking care of a house.

Written by a real guy, in a real guy's voice and with a direct guy-to-guy point of view, DAD'S OWN HOUSEKEEPING BOOK—in the spirit of Dad's Own Cookbook, with 270,000 copies in print—takes even the most Swiffer-challenged dad and shows him that housekeeping is no different from yard work, that if you can organize your shop you can organize a kitchen, and if you can load a trunk you can load a dishwasher. From laundry room to attic storage, from the "Five- Minute Attack Plan: Bathroom" to the all-out assault of spring cleaning (it really does make a big difference), from mold to stains to picking-up-after-the-kids-without-driving-yourself-crazy, this is the comprehensive crash course. Here's how to do the laundry without dulling colors. Stock the pantry to make weekday meals infinitely easier. How to get mildew off the shower tiles. How to make a bed—in one minute. How to be best friends with baking soda—just one of the many tips the author gives for saving money. And what you can do in thirty minutes to make your house completely presentable for your mother-in-law. Sorry, no more excuses.