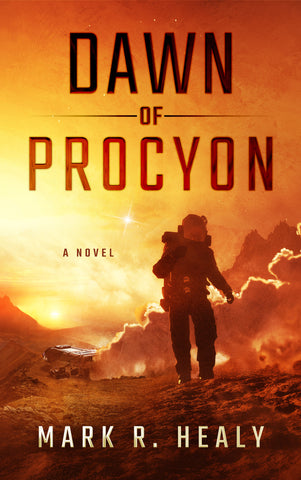 Dawn of Procyon
"It's got all the survivalist suspense of The Martian, with the added bonus of aliens to complicate things. There are layers to this science fiction thriller." -Adam Glendon Sidwell, bestselling author

A distant planet. A deadly secret.

Seventeen years after it began, the interstellar war has taken its toll: the inhabitants of Earth are desperate to find a way to defeat the Argoni, a merciless and horrifying alien race.

Light years away from the fighting, mechanic Landry Stanton lives a peaceful, mundane life on the desolate planet Procyon One, and that's just the way he likes it. But when an unauthorized trip to the other side of the planet leaves him shipwrecked and stranded alongside a hostile alien that wants him dead, Landry discovers a terrifying secret: the Argoni threat is greater than anyone back on Earth imagined.

With his oxygen and water running out, and with no way to warn the United Earth Marines, Landry's lonely fight for survival becomes a battle for humanity itself.