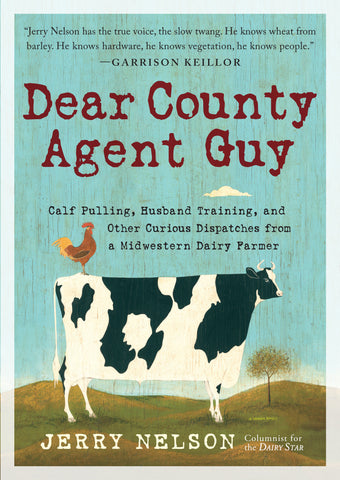 Dear County Agent Guy
"Jerry Nelson's column comes from the true heart of the Midwest. He has the true voice, the slow twang. He knows wheat from barley. He knows hardware, he knows vegetation, he knows people."—Garrison Keillor

In the tradition of Mark Twain and Jean Shepherd, Dave Barry and Garrison Keillor, Jerry Nelson is a humorist whose beat is the American heartland, a small-town world of pickup trucks and Sunday night pancake dinners, dropping in on neighbors and complaining about the county agent.

His depictions of daily life, from the point of view of an ex-dairy farmer and taciturn husband with a twinkle in his eye, are read by 250,000 people a week—and occasionally woven into Prairie Home Companion scripts. These are stories of courtship; childbirth—he offers the delivery room doctor the use of his calf puller; family; neighbors; chores; and the duties of a father—why is it that a man who spends his days in cow manure can't change a baby's diaper? Knee-slappingly funny one moment, poignant the next, it's a very special look at a distinctly American way of life.