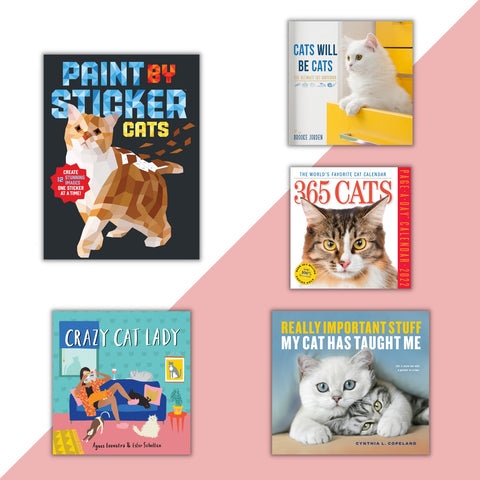 Deluxe Cat Lover's Gift Set
Website exclusive set. A bonanza of gifts for the cat lover, featuring bestselling calendar, craft, and book titles!

Paint by Sticker: Cats
Find the sticker, peel the sticker, place the sticker, and watch your paintings of cats come to life! Paint by Sticker, a favorite mindful activity for adults (move over, coloring books!), celebrates our favorite cat breeds and personalities in 12 full-color pieces of art to create with stickers.

Crazy Cat Lady
Proclaim your feline obsession proudly! Joyfully illustrated with cheeky mottoes, flowcharts, and fun facts, this little book is an affectionate tribute to cats and the cool ladies who love them. Includes a sheet of full-color stickers!
 
Really Important Stuff My Cat Has Taught Me
Cats are fearless philosophers, with poise, wisdom, and sass in equal measure. These wise and unforgettable life lessons from felines, each paired with the perfect photo, remind us when to cuddle and when to pounce, and how to live as if we, too, had nine lives.

365 Cats Page-a-Day Calendar 2022: The World's Favorite Cat Calendar
The superstar of all cat calendars features the distinguished winners of the annual Cat Calendar Contest: 365 sweet, sassy, mischievous, and elegant felines in full-color photos for every day of the year.

Cats Will Be Cats: The Ultimate Cat Quotebook
Pay tribute to the world's greatest pets with quotes from writers, humorists, veterinarians, and more, illustrated in full-color photographs of beautiful, playful cats.