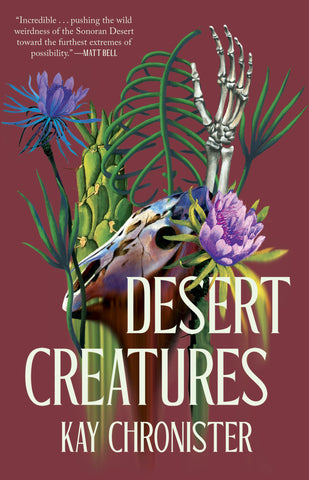 Desert Creatures
In a world grown desiccated and treacherous, one young woman will find salvation or become just another rot-lonely skull in the sand.
Nine-year-old Magdala and her father have been exiled from their home; they flee through the harsh landscape of the American West, searching for refuge. As violence pursues them, they join a handful of survivors on a pilgrimage to the holy city of Las Vegas, where it is said that vigilante saints reside, bright with neon power. Magdala, born with a clubfoot, is going to be healed. But when faced with the strange horrors of the Sonoran Desert, one by one the pilgrims fall victim to a hideous sickness—leaving Magdala to fend for herself.
After surviving for seven years on her own, Magdala is tired of waiting for her miracle. Magdala turns her gaze to Las Vegas once more, and this time, nothing will stop her. She recruits an exiled Vegas priest at gunpoint to serve as her guide, and the pair form a fragile alliance as they navigate the darkest and strangest reaches of the desert, on a journey that takes her further from salvation even as she nears the holy city.
With ferocious imagination and poetic precision,
Desert Creatures
is a story of endurance at the expense of redemption. What compromise does survival require of a woman—and can she ever unlearn the instincts that have kept her alive?
Combining the subversive inventiveness of
Inland
by Téa Obreht with the eco-surrealism of Jeff Vandermeer's
Dead Astronauts
and the themes of survival and morality in Cormac McCarthy's
The Road
, award-winning short fiction writer Kay Chronister transfigures genre and the myth of the West in this stylish and original debut novel.