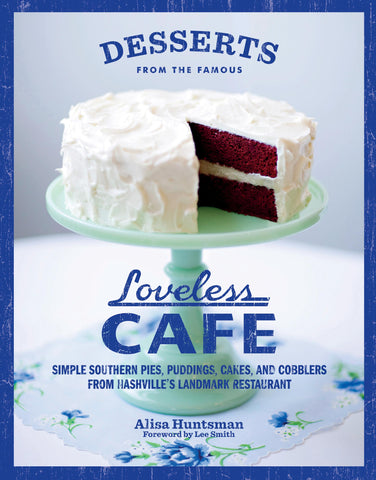 Desserts from the Famous Loveless Cafe
Delicious Southern sweets and treats from a Nashville favorite.

Renowned for its Southern charm and superb comfort food, the Loveless Cafe in Nashville,Tennessee, serves some of the best desserts below the Mason-Dixon line. Aficionados of country cooking travel from near and far to sample the restaurant's extraordinary sweets.

In Desserts from the Famous Loveless Cafe, pastry chef Alisa Huntsman takes the most beloved Southern ingredients and flavors—from sorghum to buttermilk, persimmons to pecans—and masterfully combines them to create desserts with a modern appeal. Big Momma's Blackberry Jam Cake, Honey Chess Pie, Bourbon Peach Shortcake, Blueberry Skillet Cobbler, Coconut Chews, and Lady Lemon Bars are just a handful of the more than 100 irresistible recipes included in this ultimate guide to Southern desserts. Easy to make and even easier to eat, all of the favorite Loveless dessert recipes are included. With a foreword by bestselling author Lee Smith, essays extolling the virtues of the Southern palate, and full-color photos showing the delicious confections, this book will help anyone who can't travel to Nashville or wait two hours for a table at this popular restaurant enjoy a taste of the Loveless at home.