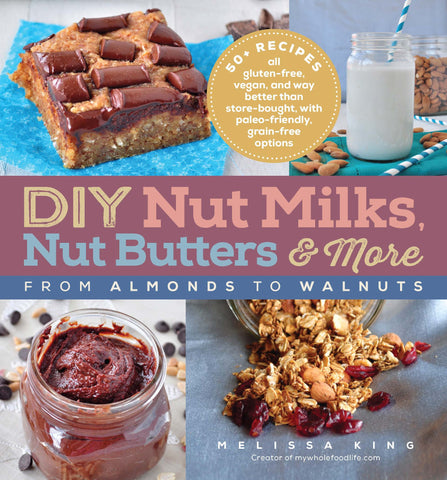 DIY Nut Milks, Nut Butters, and More
"An essential resource."—Alana Chernila, author of The Homemade PantryYour all-in-one guide to making creamy milks, velvety butters, and satisfying treats from almonds, cashews, hazelnuts, and more!
DIY Nut Milks, Nut Butters & More
brings nut power to the people with more than 50 recipes for homemade nut milks and butters—along with delicious, whole-food snacks and desserts that put them to use. Inside you'll even find tasty ideas for using the leftover nut pulp! You'll discover all sorts of goodies inside, including:
Strawberry Brazil Nut Milk
Rich and Creamy Pistachio Butter
Chocolate Hazelnut Spread
Almond Butter and Jelly Muffins
Peanut Butter Cup Granola
Salted Honey Cashew Truffles
Tropical Protein Smoothie
Chocolate Peanut Butter Chunk Ice Cream
These decadent yet straightforward recipes use simple ingredients that are most likely already in your pantry. Even better—every dish is gluten-free and vegan, and most are grain-free, too. Filled with smart advice, helpful tips, and fabulous recipes, this is your ultimate guide to homemade nut milks, nut butters, and beyond.