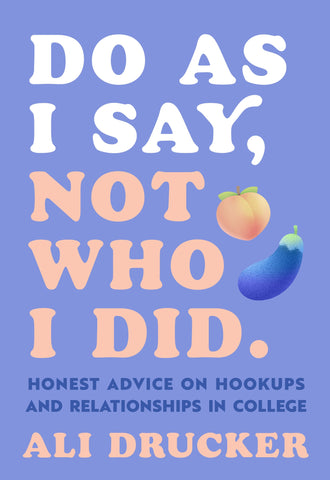 Do As I Say, Not Who I Did
This is shame-free, affirmative sex education for college-age women, and anyone just discovering what they want
 
"Do As I Say, Not Who I Did is not subtle, delicate, or laced in metaphor. . . . It's compelling, funny, and unflinchingly educational while delivering a stream of unconditional compassion for the reader."—Daily Campus
  
It's hard to overstate how much we put pressure on early sexual encounters—and how little real advice is out there. How do I deal when I keep running into my one-night stand? How can I tell if I'm too drunk to have sex? How do I say stop when I'm not really into it? Why do I keep getting all these UTIs? 
 
And most of all: Why is so much of sex ed focused on what could go wrong instead of what actually feels good? In this unflinchingly honest guide to hookups and relationships in the twenty-first century, Ali Drucker answers these questions and more—with "been there, done that" confessional advice, plus input from experts on sexuality and from students in college today. 
 
If you missed out on shame-free, affirmative sex education . . . if you're nervous about having sex . . . if you're just discovering what you want (and how to ask for it)—this book is for you.