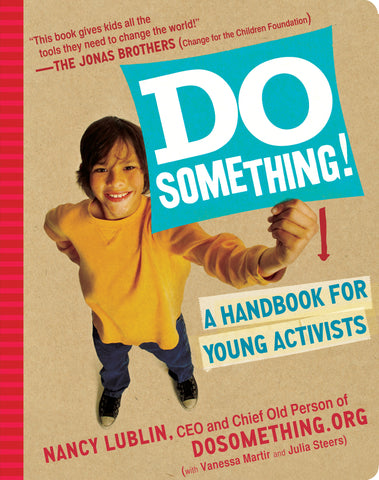 Do Something!
Kids want to do it. Parents want their kids to do it. Schools often require kids to do it. So do it: Do something and change the world.  And here's how, in a fist-in-the-air book for every young activist.

DoSomething.org knows exactly how to reach kids. The largest Internet-based teen service organization, it supports 750,000 projects, receiving 15 million visitors a month, and, for the first time ever, broadcasting a Do Something Awards show on VH1.

Do Something! takes aim at the next generation of do-gooders. Written in a lively, in-your-face style, designed to be edgy and hip, it's the kind of interactive, educational book every parent will feel good about giving because it shows kids how to get involved, in language they understand.

It's an idea-to-execution guide. Quizzes help readers pinpoint their "thing"—a cause that fires them up. Then come the tools that show how to get something done, whether it's making a poster, raising money, sending around a petition, or enlisting friends.

There are 33 action plans, touching on areas such as the environment, human rights, poverty, animal welfare, education, disaster relief—plus worksheets, facts, and outlines to help socially conscious kids create their own projects, and, for inspiration, profiles of DoSomething.org grant winners. Additionally, DoSomething.org is setting up a separate website for this book's readers.

About DoSomething.org: DoSomething.org is one of the largest organizations in the US that helps young people rock causes they care about. A driving force in creating a culture of volunteerism, DoSomething.org is on track to activate two million young people in 2011. By leveraging the web, television, mobile, and pop culture, DoSomething.org inspires, empowers and celebrates a generation of doers:  teenagers who recognize the need to do something, believe in their ability to get it done, and then take action.  Plug in at www.DoSomething.org.