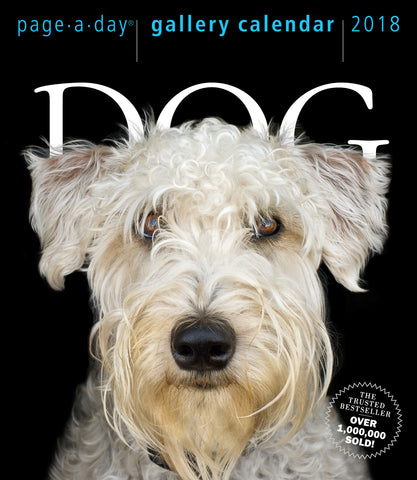 Dog Page-A-Day Gallery Calendar 2018
The ultimate gift for the dog lover: a year of extraordinary canine portraits, in color and black-and- white. A joyous spaniel bounding across an open field. A Bosnian Coarse-haired Hound standing in the falling snow. A Goldendoodle waiting eagerly by the front door for his morning walk. Plus a Shar-Pei enjoying a day by the ocean, a German Shorthaired Pointer with her favorite tennis ball, and a Corgi playing in a pile of autumn leaves. Each image captures its subject in beautiful detail, reminding us why the dog is man's best friend.

The Rolex of calendars, the Page-A-Day Gallery Calendar elevates what a calendar can be, incorporating engaging content with the weight, style, and visual richness usually reserved for art books. A sophisticated gift for collectors, connoisseurs, and aficionados—and an aesthetic upgrade for any desktop.