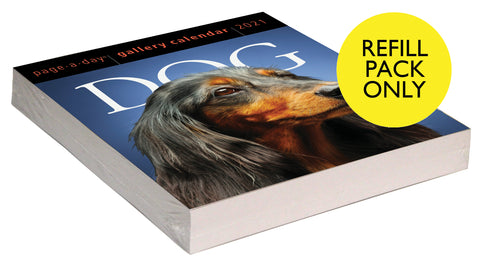 Dog Page-A-Day Gallery Calendar 2021 Refill Pack
This is a refill pack for the Gallery Calendar. It includes the pages of the Dog Page-A-Day Gallery Calendar 2021, but there is no plastic backer included. 

Sweet and soulful dog portraits for your desktop, all year long.

The Dog gallery calendar presents hundreds of soulful, spirited dogs for your desktop. A pair of statuesque Borzois in profile. An inquisitive Chihuahua tilting her head. Plus a sleepy-eyed Basset Hound, a graceful Retriever in gallop mode, and a lively Beagle puppy. Hundreds of intimate portraits in color and black and white bring out the beauty and personality in every expression—down to the plush fur, the wet nose, that irresistible gleam in the eye—and reveal the essence and spirit of the dog.

Page-a-Day Gallery Calendars include 160 sheets of glossy, high quality paper printed with gorgeous full-color photographs.