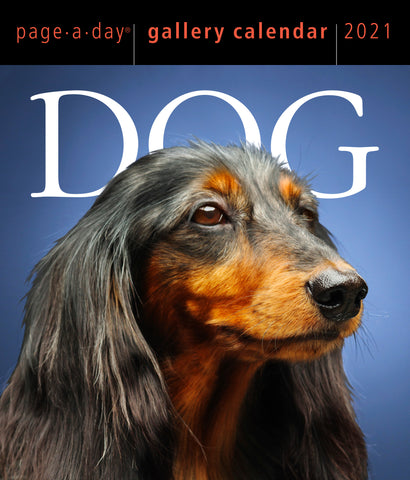 Dog Page-A-Day Gallery Calendar 2021
Sweet and soulful dog portraits for your desktop, all year long.

It's the ultimate gift for the dog lover: a year of endearing, beautiful portraits, in dazzling color and candid black and white, that capture hundreds of unique personalities and breeds. Lustrous Cocker Spaniels, Labrador puppies, Irish Setters. A Pomeranian, coyly peeking out of a basket. Goldendoodles ready to play fetch, eyes agleam. A lovable, resting Pug whose sleepy expression is guaranteed to make you smile. Each image captures its subject in reverent detail, reminding us why the dog is truly our best friend.

Page-a-Day® Gallery Calendars include 160 sheets of glossy, high quality paper printed with gorgeous full-color photographs. Each calendar is packaged in a clear plastic box that opens into a desktop easel for elegant, inspiring display. Printed on FSC-certified paper.