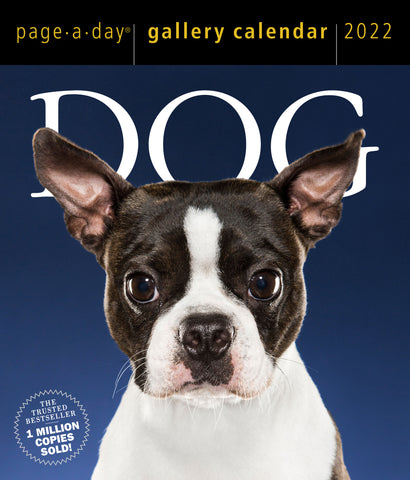 Dog Page-A-Day Gallery Calendar 2022
The most delightful gift for the dog lover.

The delightful wrinkles and expressive eyes of an English Bulldog. An elegant Papillon, all ears. A gorgeous Spaniel on a mountain ridge. A Beagle eager to play. And a Boston Terrier bouncing through the snow. Dog Gallery is the bestselling calendar that captures each of its subjects' beauty and distinctive canine charisma. On every page is a stunning portrait, in black and white or color, that will speak to the dog lover's soul. Accompanying the photographs are charming captions, quotes, and sayings: "God went forth to create the world, and he took his dog with him."—Kato Indian creation  story. Printed on FSC-certified paper. 

Page-a-Day® Gallery Calendars include 160 sheets of glossy, high quality paper printed with gorgeous full-color photographs. Each calendar is packaged in a clear plastic box that opens into a desktop easel for elegant, inspiring display.