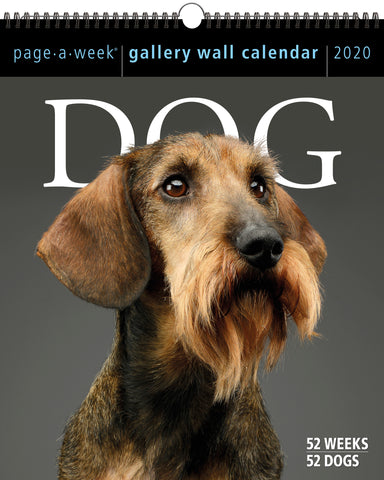 Dog Page-A-Week Gallery Wall Calendar 2020
An elegant gift for dog lovers, with 52 poster-style portraits that capture canine spirit.

An eagerly wagging tail. A soft, velvety paw. Inquiring, intelligent eyes. Every day, Dog Picture-a-Day® Wall Calendar celebrates the lively spirit, undeniable charm and true, loving soul of the dog in 52 weeks of beautifully composed, posterlike photographs for your wall. There's an elegant, fiery Irish Setter with its head held high. A sunny Golden Lab, playfully bounding across a field. And a friendly, fuzzy Cockapoo, leaning in for a nuzzle. Each portrait is brimming with personality and is a study in detail—a shiny wet nose; silky, strokable ears; a kind and loving gaze.
                                           
Picture-a-Day® Wall Calendars include hundreds of gorgeous full-color and black-and-white photographs that indulge our hobbies, curiosities, and obsessions. Each month's grid includes a large image with informative text, plus additional images for nearly every day of the year.