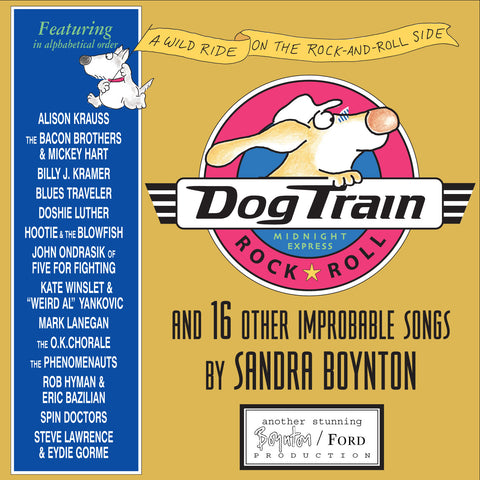 Dog Train CD
Who let the dog out? Out of its book, that is. Announcing the CD-only Dog Train—the funky, fabulous collection of all-out rock music. Taken directly from Dog Train, the book and CD, it's the same great music, now in the brilliant format music-lovers love. It features:

• SPIN DOCTORS throw a "Tantrum"
• THE O.K. CHORALE presents "Thus Quacked Zarathustra"
• BLUES TRAVELER rocks the "Dog Train"
• MARK LANEGAN sings "Sneakers"
• BILLY J. KRAMER narrates & sings "Cow Planet"
• STEVE LAWRENCE AND EYDIE GORME croon "Boring Song"
• THE BACON BROTHERS AND MICKEY HART clang "Pots & Pans"
• KATE WINSLET AND "WEIRD AL" YANKOVIC sing "I Need a Nap"
• ALISON KRAUSS sings "Evermore"
• JOHN ONDRASIK OF FIVE FOR FIGHTING sings "Penguin Lament"
• THE PHENOMENAUTS rock out "(Don't Give Me That) Broccoli"
• ROB HYMAN AND ERIC BAZILIAN perform "Dragonfire"
• DOSHIE LUTHER sings "Wave Bye-Bye"
• HOOTIE& THE BLOWFISH rock and rock "Rock to Sleep"

Full of attitude, full of fun, all lit up with star power, and boasting a variety of Top 40 styles, Dog Train is also full of words—inside is a 16-page booklet with complete lyrics, and plenty of irresistible hippos, cows, dogs, and more dogs.