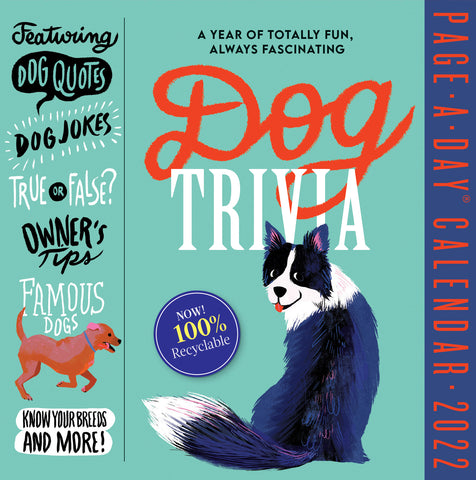 Dog Trivia Page-A-Day Calendar 2022
Fun facts to feed the dog lover's obsession.

Dog lovers, test your knowledge about "man's best friend." This calendar indulges dog people with a year of canine fun illustrated in lively full color: trivia, tips, profiles, humor, and more. Know Your Breeds: Did you know that Greyhounds can reach speeds of 45 miles per hour and that at their fastest, their feet touch the ground only a quarter of the time? Notable dogs, including King Edward VII's Wire Fox Terrier, Caesar, who had his own footman and led the king's funeral procession. True or False: The Great Pyrenees breed is naturally nocturnal. (True! They were bred as watchdogs to guard shepherds' flocks at night.) Plus owner's tips and wise words on why we love dogs: "Courage without ferocity, and all the virtues of man without his vices."—Lord Byron. Now 100% recyclable and printed on FSC-certified paper.