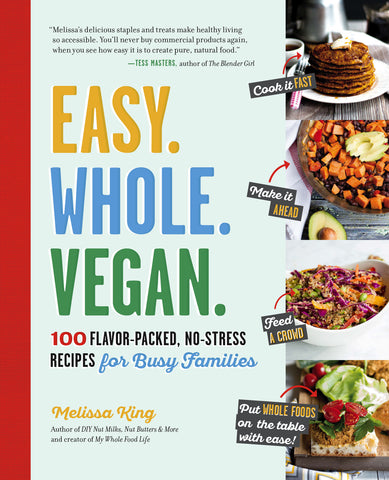 Easy. Whole. Vegan.
Wouldn't you do more healthy cooking at home—if you only had the time?
It can be tough to put dinner on the table without falling back on packaged, processed foods. But for Melissa King, watching her two young daughters struggle with health issues was tougher. She switched her family to a whole foods, plant-based diet—and it made
all
the difference.  
Today, Melissa is a master at crafting flavor-packed, no-stress recipes that are
Easy. Whole. Vegan.
(Plus, they're gluten-free!) Here are her top 100 meals, snacks, desserts, and more—ingeniously organized by
need
to help busy families find the right one:  
QUICK: Make Sweet Potato Pancakes or Avocado & Chickpea Stuffed Cucumbers in 30 minutes or less
EASY: Multitask effortlessly with slow-cooker dishes like Chili Mac & Cheese
MAKE-AHEAD: Prep Lentil Shepherd's Pie when you do have time, and freeze it for later (Melissa explains exactly how!)
Plus, ENTERTAIN with White Bean & Zucchini Burgers, MAKE IT YUMMY with wholesome condiments like Hidden Veggies Tomato Sauce, and hydrate for health with PICK-ME-UPS like Beet, Orange & Ginger Juice or a Tropical Green Smoothie.
You
do
have time to cook whole, vegan food at home—once a week, or all the time. It's easy!