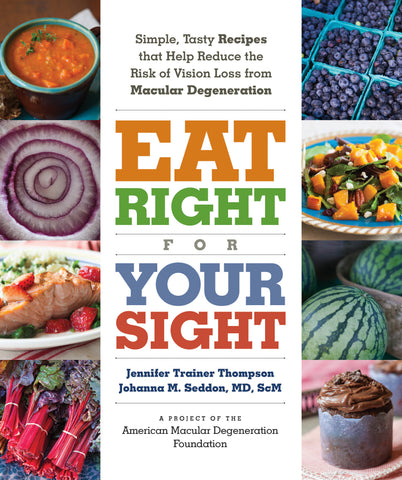 Eat Right for Your Sight
Safeguard your vision with 85 simple, satisfying recipes rich in the nutrients that fight macular degenerationThe Bad News:
Age-related macular degeneration (AMD) is the leading cause of central vision loss in adults over the age of fifty. It can wreak havoc on the ability to see faces, read, drive, and move about safely. Millions of people are at risk, and we still don't have a cure.
The Good News:
The latest research suggests that healthy lifestyle choices, including a diet rich in lutein, zeaxanthin, and other key nutrients, can delay the onset and progress of AMD. Eat Right for Your Sight provides a delicious way to add the best ingredients for eye health to every meal of the day. Feast your eyes on these appealing recipes:
Sweet Pea Guacamole
Chicken-Vegetable Noodle Bowls
Garlic-Lime Pork Chops
Carrot-Ginger Juice . . . and more!
Every recipe includes comprehensive nutrition information and has been carefully crafted to act like medicine but not taste like it. Taking care of your eyes has never been easier!
With Recipes from
Lidia Bastianich
,
Ina Garten
,
Jacques Pépin
,
Alice Waters
,
Andrew Weil, MD
, and other superstars of healthy cooking.