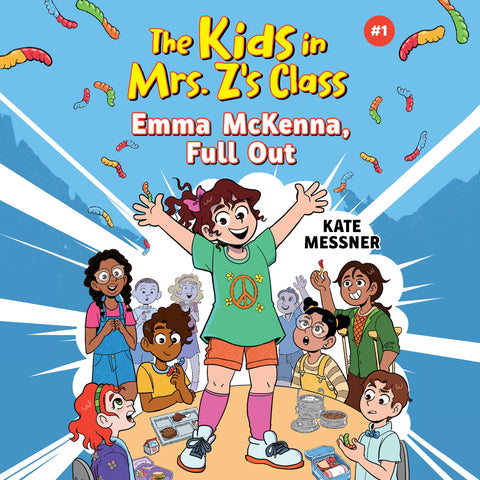 Emma McKenna, Full Out (The Kids in Mrs. Z's Class #1)
Emma McKenna can't wait for third grade at the brand-new Curiosity Academy. She'll have a cool teacher who wears high-tops and science earrings. She'll meet interesting classmates from all over Peppermint Falls. Best of all, she'll get a fresh start after last year's talent-show disaster left her with that awful nickname. It's going to be the best year ever!

Then Lucy walks into Mrs. Z's room.
Lucy, Emma's best-friend-turned-enemy.
Lucy, who gave Emma that nickname and spread it all over school!
Emma's fresh start is doomed . . . unless she can make friends before Lucy ruins everything.

So Emma sets out to be pals with everyone, just like her favorite animal, the capybara. As her classmates argue over the choice of a new school mascot, Emma stays quiet and doesn't pick sides. (The last thing she needs is another enemy.) But maybe speaking up could be the thing that helps her really connect with her class—and saves her at last from third-grade doom.

Both sweetly poignant in its attention to kids' worries and friendships and laugh-out-loud funny in its storytelling, with black-and-white illustrations throughout by Pura Belpré Honor artist Kat Fajardo, Emma McKenna, Full Out is the perfect launch for the exciting new Kids in Mrs. Z's Class chapter-book series.