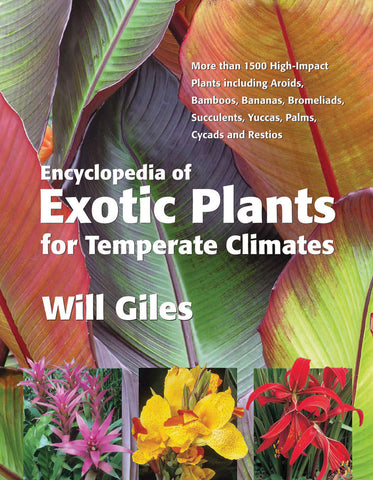 Encyclopedia of Exotic Plants for Temperate Climates
With their bold foliage, exuberant colors, and luscious scents, exotic plants ignite curiosity and thrill the senses. Fortunately for gardeners in the world's temperate regions, it's not necessary to live in the tropics to experience spiky agaves, bright cannas, and the flame-like blooms of Strelitzia reginae.
The Encyclopedia of of Exotic Plants for Temperate Climates showcases an unparalleled array of exotic plants sure to delight gardeners who covet their dramatic effects and flamboyant beauty. Drawing on his experience running the acclaimed Exotic Garden in decidedly un-tropical Norwich, England, Will Giles shows how—with a dash of insider know-how—a myriad of beguiling exotics can be persuaded to flourish in the unlikeliest places.
Lavishly illustrated, this book is an inspirational and authoratative resource. It will inspire gardeners to question conventional hardiness restrictions, experiment with new plants, and create gardens that are out of the ordinary.